The stablecoin Neutrino USD has fallen below 0.80 USD after a pseudonymous on-chain investigator accused the Waves team of market manipulation.
USDN de-pegged despite healthy backing
Neutrino is the largest DeFi protocol on the Waves blockchain. Over the past six weeks, Neutrino USD has been the fastest-growing stablecoin. Data from CoinGecko shows that USDN's market cap grew by more than 60% in the last 30 days alone. Since the beginning of April, the bubble seems to be bursting, though.
In order to peg USDN to the US-Dollar, the stablecoin is backed by WAVES reserves. Despite the DeFi protocol showing a healthy 2:1 backing ratio, USDN has crashed to less than 0.80 USD at the time of writing.
The reason why arbitrage traders can't simply redeem USDN for WAVES is that only users who have staked the protocol's governance token (NSBT) can swap between the two tokens. And there is a daily limit on the amount that can be swapped. This leaves USDN holders only the option of selling them on the secondary market, triggering the price crash.
To make matters worse, the WAVES price is down 45.3% since its all-time high on March 31. If it keeps dropping further, USDN is at risk of losing its backing and triggering another sell-off. In order to prevent this, Neutrino has issued an emergency governance vote, which would significantly increase the swap limits for NSBT stakers.
Someone is manipulating the WAVES price
On-chain investigator 0xHamZ explains that this might be the result of an elaborate pump-and-dump scheme run on the Waves blockchain. He called Waves the "biggest Ponzi in crypto" and accuses the dev team themselves of manipulating the price by converting WAVES tokens into USDN and using it as lending collateral to buy more WAVES and driving the price further up.
To prove his point, 0xHamZ shows that users of the lending platform Vires borrow USDT and USDC at absurdly high interest rates of more than 30%. Since his Tweet on March 31, borrow rates on Vires have risen to even higher levels across all crypto assets, with USDT and USDC currently standing at over 80%.
Indeed, comparing the market cap graphs of Neutrino USD and WAVES shows a striking correlation. While the increase in USDN market cap triggered an increase in the WAVES price, the WAVES crash predated the drop in USDN market cap, supporting the claim that this was in fact a pump-and-dump scheme.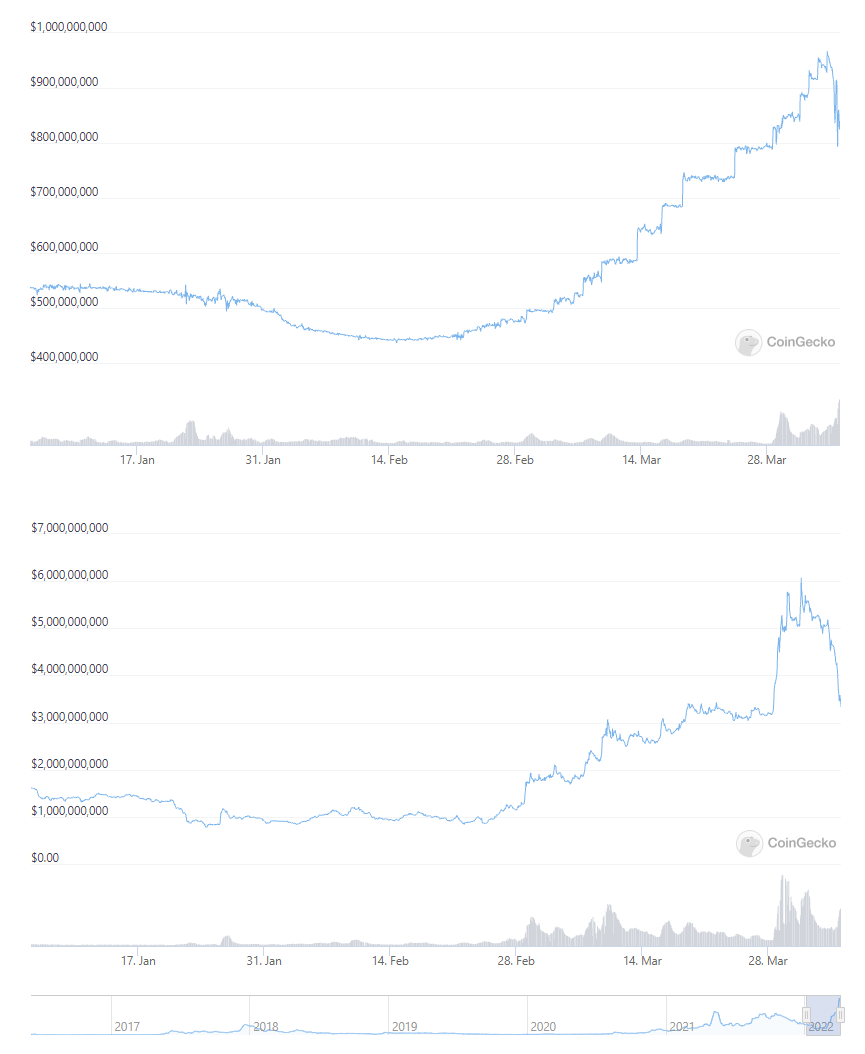 Waves founder denies allegations, blames Alameda Research
Via Twitter, Waves founder Sasha Ivanov accuses Alameda Research of manipulating the WAVES price and spreading a FUD campaign in order to "trigger panic selling". He posted a screenshot of a Vires account supposedly belonging to Alameda, which supplied 40.5 million USD in USDT and USDC each and took out a loan of 31 million USD in WAVES, which was then sent to Binance.
Ivanov states that around the same time, FUD started to spread, which he blames on shills paid by Alameda. His argumentation has some holes, though.
First of all, what he blames Alameda of doing was the exact opposite of what provably happened to the WAVES price, and was in fact very reasonable. The account supplied Vires with stablecoins bearing a high yield and took out a loan at a lower rate, in an overbought token.
Secondly, the notion that Alameda, which is led by billionaire philanthropist Sam Bankman-Fried, would deem it necessary to back up a 31 million USD short position with a targeted FUD campaign is absurd. On Twitter, Bankman-Fried called it an obvious "bullshit conspiracy theory".
Thirdly, Ivanov contradicts himself. He claimed the 0xHamZ's argumentation is false, since it assumes that "you can move a market of [1 billion USD] daily volume consistently with a few millions". On one side of the equation, we have a 31 million USD short position from Alameda. On the other side, Vires reports a total debt of 569 million for USDT and USDC. Assuming that, at a borrowing rate of 80%, the vast majority of this loan is used for some kind of nefarious purpose, this is a sum that can easily create a supply squeeze.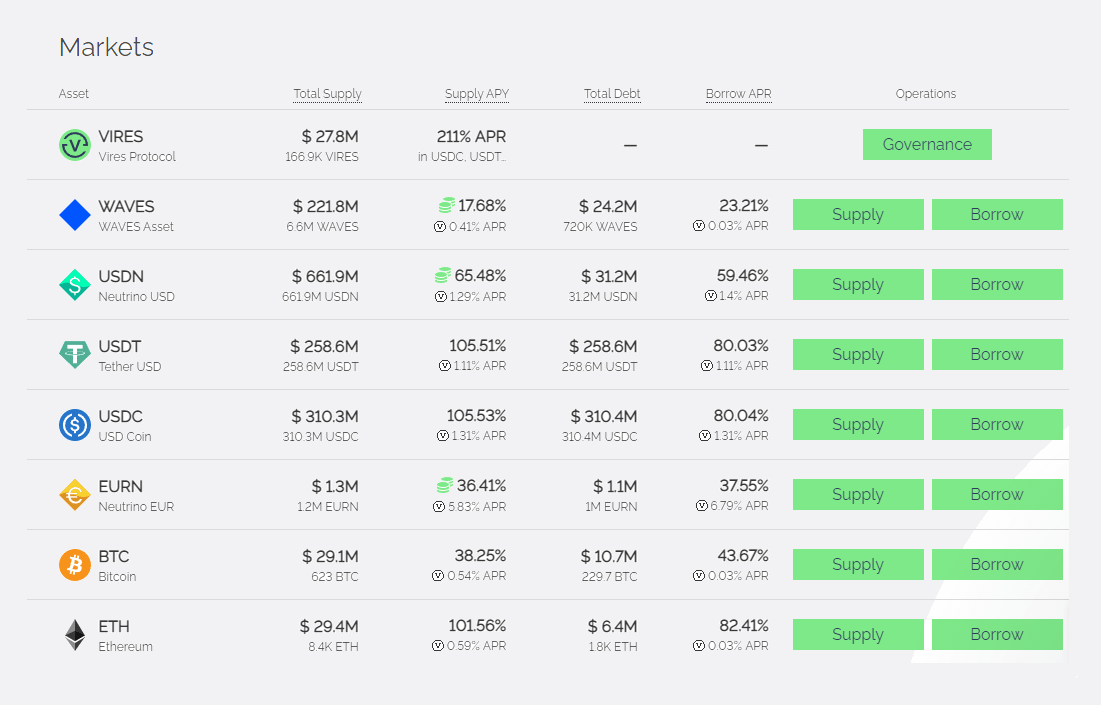 Finally, the account supposedly belonging to Alameda shorted WAVES on March 20, at a time when the price manipulation had been already in full swing. It is, however, intriguing that the increase in USDN market cap seemed to have started on February 24, the same day Russia launched the invasion of Ukraine.
After the manipulation began and the WAVES price went parabolic, Bloomberg featured Ivanov in an article, attributing the price increase to the war between Russia and Ukraine. Ivanov denied this, stating that Waves, which some call the Russian Ethereum, has cut any ties to Russia and launched a subsidiary in the US.