Ethereum has been on the right footing for eight consecutive quarters if the current one closes in green.
Market insight provider Coinbase Institutional explained:
"ETH is on track for 8 consecutive positive quarters, +47% this Q4."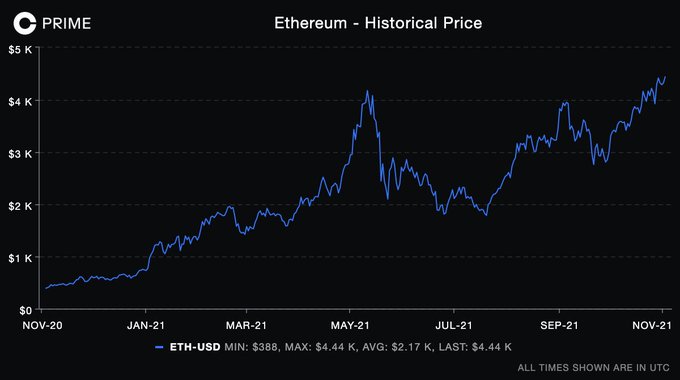 This year's fourth quarter has seen Ethereum record historical highs. For instance, ETH set a new all-time high (ATH) above $4,650 in the last 24 hours even though it had retraced to the $4,583 level during intraday trading, according to CoinMarketCap.
Interestingly, the new record high price was attained after seven consecutive days of negative supply issuance for the first time, according to on-chain insight provider CryptoCompare.
On the other hand, ETH-based products gained between 30% and 40% in October. CryptoCompare added:
"Both Bitcoin and Ethereum-based products gained in October, from 40-49% for BTC products and 30-40% for ETH products."
Ethereum 2.0's record-breaking move continues
According to crypto analytic firm Glassnode:
"The total value in the ETH 2.0 Deposit Contract just reached an ATH of 8,108,146 ETH."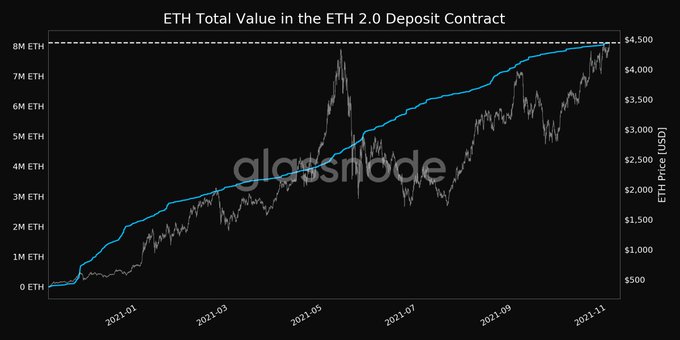 Therefore, more investments continue being staked in this deposit contract, given that it's deemed a game-changer in the Ethereum ecosystem.
ETH 2.0, also known as the Beacon Chain, was launched in December 2020 and was regarded as a game-changer that sought to transit the current proof-of-work (POW) consensus mechanism to a proof-of-stake (POS) framework.
Ethereum 2.0 is expected to improve scalability through sharding. Furthermore, it is touted to be more environmentally friendly and cost-effective.
Meanwhile, Ethereum's Altair upgrade went live on October 27. It intends to revamp validators' incentives and support light clients. Moreover, it aims to tackle bad actors and inactive nodes.
Therefore, this upgrade seeks to make Ethereum more decentralized, secure, and environmentally friendly.