Ethereum (ETH) returned to levels last seen in June based on renewed momentum following those upcoming potential merging events.
Market insight provider Santiment explained:
"Ethereum's return above $1,500 for the first time since June 12th appears to be happening as the crowd has little belief in this rebound. Despite this, the average ETH return of 30-day traders has ballooned to +28%, the highest since August 2021."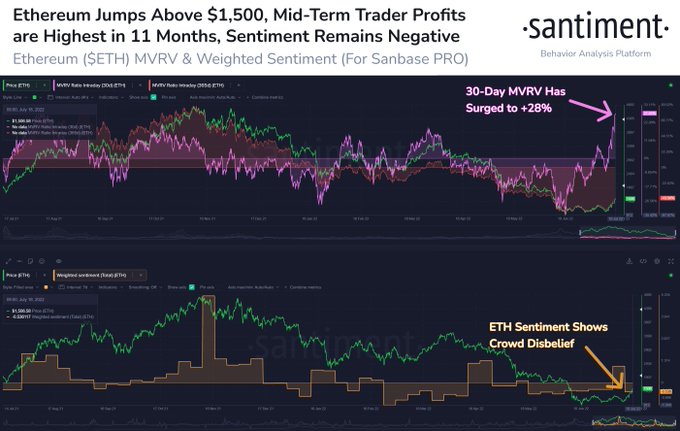 Source: Santiment
The 30-day return for Ethereum traders also hit an 11-month high, suggesting that the renewed momentum has driven their profits to levels last seen in August 2021.
Furthermore, ETH supply in profit also soared by 56%. On-chain insight provider Glassnode stated:
"Over the last month, almost 7.8% of circulating supply of ETH has transacted on-chain and changed hands. The total ETH supply in profit has now increased to 56%, after hitting lows of 41% prior to the current price rally."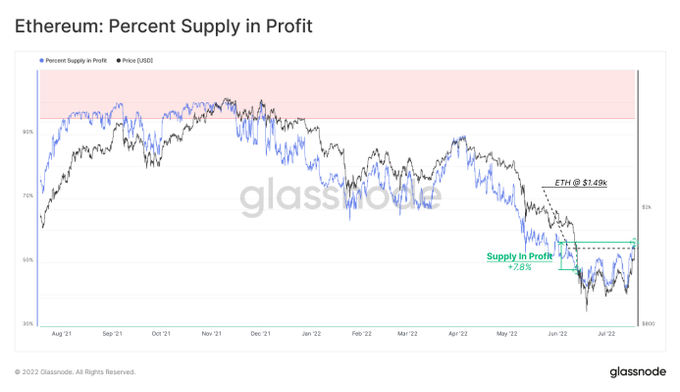 Source: Glassnode
The second-largest cryptocurrency was up by 3.8% to hit $1,511 during intraday trading, according to CoinMarketCap.
During a recent developers' call, September 19 emerged as the most probable date for the merge.
Therefore, these upcoming events have been making airwaves, triggering a bullish momentum in the Ethereum market because the merge is anticipated to be the biggest software upgrade in the ecosystem.
The merge is expected to transform the Ethereum network to a proof-of-stake (PoS) consensus mechanism from the current proof-of-work (PoS) framework, which has been elusive for a few years.
The PoS algorithm will enable the confirmation of blocks in a more cost-efficient and environmentally friendly way because validators will stake Ether instead of solving a cryptographic puzzle.
This article was originally published on blockchain.news